Pro line cycling bib shorts are by far the most important part of your cycling gear. Without the right shorts, your bottom will definitely suffer especially on a long ride.
Souke Sports line of high-end cycling shorts is designed to give you ultimate comfort on your bike ride. The shorts feature high-quality and soft chamois to protect your bottom when riding while seated on a hard saddle.
The bib shorts also act as a second skin to protect you from the sun's rays, keep you warm when riding on cold days and cool on hot days, and generally avoid irritation after being in the saddle for a long time.
Why Choose Souke Sports Pro Line Cycling Bib Shorts?
There are many reasons why Souke Sports bib shorts are better than other biking shorts on the market today.
The bib shorts are designed for both short and long-distance riding. Unlike traditional riding shorts, Souke Sports bib shorts keep you safe from developing painful and uncomfortable elastic marks caused by riding short waistbands.
Souke Pro Line bib shorts also cover your back comfortably while leaving the sides open for smoother arm movements as you tackle a hard ride on a hot day. As a serious biker, you need to be comfortable enough to handle different sitting and shifting positions.
Their pro line bib shorts come with many features including the following:
Comfortable padding or chamois on the seat to keep you comfortable on hard bike saddles
Easy to wear straps or braces
Comfortable, breathable, and stretchable fabric
Ample and accommodating leg holes
The cycling bibs don't have waistbands as they are held up by braces on each side of the bib shorts.
Waistbands and restrictive fabric prevent adequate blood flow throughout the legs and limit your performance. They also help to prevent irritation caused by the accumulation of sweat on your midriffs.
When combined with the right cycling jerseys to give you a harmonious look, riding bib shorts not only look more professional but also help to improve your riding performance.
Let's look at some of the key features of the three main types of pro line cycling shorts available at Souke Sports.
1. Souke Sports Men's 4D Padded Cycling Bib Shorts – BS1606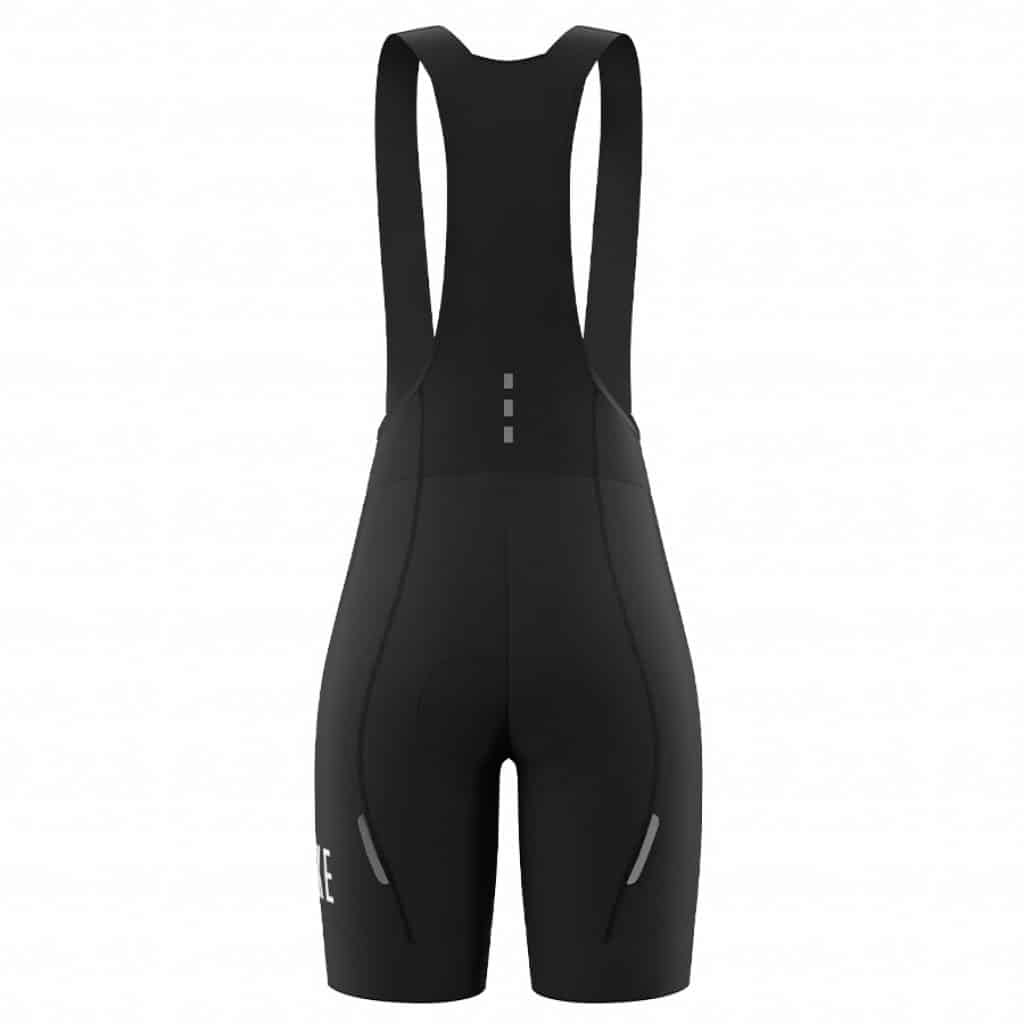 The BS1606 is a Souke entry-level but bestselling line of cycling bib shorts. It sells for only around $50 and comes in classic colors to match different types of riding jerseys.
The bib shorts are made of a high-quality blend of 80% nylon and 20% spandex materials. The fabric is breathable enough to absorb moisture and release sweat. It's also stretchable to allow muscle extension when riding.
The BS1606 cycling bibs have comfortable padding featuring 6 layers of high density 90kg/m3 memory foam. The padding isn't only breathable and stretchable in 4 ways but can ease pain in 90% of your riding time and is comfortable enough to withstand long rides.
The bib shorts also come with an extra-wide 3.2-inch to 3.6-inch leg opening or gripper. The gripper is made of eco-friendly silica gel and works efficiently to stop the leg opening from annoyingly riding up your thigh while riding.
Another key feature of the BS1606 bib short is its reflective design. The shorts have reflective elements that help to make you visible and improve safety when riding at night or in low-light conditions. The shorts also feature a comfortable and breathable strap and a tight pattern design for the serious rider.
They are also easy to maintain. To extend durability and retain the original quality of the bib shorts, do not bleach, iron, or dry clean. You can machine wash the shorts up to 30 degrees and hang them to dry.
2. Souke New Men's Cycling Bib Shorts – BS1601
Currently available in 3 colors namely black, green, and navy, the BS1601 collection of pro line men's riding bib shorts is another great option to consider when shopping for the best quality riding gear.
The bib shorts are made of a perfect combination of 80% nylon and 20% spandex fabrics, which are breathable and super comfortable materials.
The short also features solid padding of 6 layers of high-density memory foam and extra-wide leg opening and gripper, a reflective design to keep you safe while riding in darkness, fog, and other low light conditions, and a breathable back mesh to keep away heat and perspiration from your back. It is a perfect pair of cycling shorts for road bike tours.
3. Souke New Men's Cycling Bib Shorts – BS1602
The BS1602 men's cycling bib shorts are a new collection available in one classic black color. The pro line bib shorts feature high-quality fabric. They are made from 80% nylon and 20% spandex materials. The materials are breathable enough for sweat release and moisture absorption.
The bib shorts also feature comfortable padding of 6 layers of high-density memory foam that can stand up to a 100km ride. They have an extra wide gripper made of eco-friendly silica gel and an extra-width waistband.
The short's breathable strap is also designed to keep your back free of heat and perspiration when riding in hot weather. Overall, the BS1602 is one of the most comfortable new lines of bib shorts from Souke Sports.
Why Buy Pro Line Bib Shorts at Souke Sports?
There are many reasons to shop at Souke. For instance, they stock premium quality cycling gear including pro line bib shorts at the most reasonable prices.
Their brand has been in the market for over 10 years, thanks to their professional approach and unrivaled customer service.
They also provide fast shipping and easier payment options to suit your preferences. Visit the men's bib shorts page to get your 15% discount today. 
Get a 15% Discount on Your Bib Shorts Order
Souke Sports is also offering a whopping 10% off discount for all orders placed on their website.
To get the discount simply enter the code: BIKINGBRO15OFF on checkout and you will instantly get a 15% reduction for any order placed on their online store.