Like most people nowadays, you're probably looking to swap your gas-guzzling car for a bike to lower your emissions and get some exercise in when running errands or commuting to school and/or work. That's why we put together this guide to help you find the best single speed bikes without breaking a sweat.
Best Single Speed Commuter Bikes
Also known as fixed gear bikes, single-speed bicycles are incredibly accessible but the key to getting value for money with them is to know what you're looking for.
A smart shopper is one that goes in knowing that you have different options at your disposal and can use your knowledge of the most relevant features to select the best single speed road bike for your needs.
1. Sixthreezero Around the Block Single-Speed Cruiser Bicycle
Sixthreezero is one of the best single-speed bike manufacturers and they certainly don't disappoint with their flagship Around the Block men's cruiser bike.
It's one of those attractive beach cruisers that you can ride in urban terrain with relative ease. The rear of the bike contains a mounting rack that you can use to attach panniers, baskets, or any other fixture.
The wheels are available in sizes of 24 inches and 26 inches, which means you can customize them as closely as possible to your height. The wheel size that you choose will determine the type of terrain that you can ride on. The most important thing to ensure, regardless of the size, is that your feet actually reach the ground when you're on the bike.
But, this isn't your average everyday, cruiser bike. It has the capacity to withstand rugged terrain, including grass, small rocks, pebbles, and roots – anything it comes across! It's perfect for all sorts of adventure biking and inner-city obstacles as well.
---
2. Schwinn Stites Fixie Bike
The Schwinn Stites single-speed fixie bike is one of the most unique bikes on the market. It's built for comfort and speed, with an urban seat and cushions in all their right places.
You'll enjoy a fairly agile ride thanks to the steel racing frame and fork. This is what makes this bike ideal or daily commuting no matter where you live. It has a simple design that's easy to use and it doesn't take much to figure it out.
We like the fact that this bike is low-maintenance and it's built for safety, as evidenced by the back and front allow caliper brakes which are considered to be the best in the business. This is paired with fixed cogs that allow you to stop the gear in a moment and a versatile flip-flop hub with a freewheel.
You can even flip the back wheel if you like so that you can switch from true-fixed gear riding and freewheel coasting. All told, this fastest single speed bike is very efficient and practical for daily use in different types of terrain.
---
3. Firmstrong Urban Lady Cruiser Bicycle
The Firmstrong Urban Lady beach cruiser bike is the smoothest riding bike on the market for women. Although this is a speed bike it's perfect for casual riding and rides like a dream on paved paths and flat terrain.
Even if you're not experienced when it comes to riding bikes, you'll find that it's incredibly easy to ride this particular model. It has a straightforward, cable-free design and the gear system is really simple. You can easily keep it at an even speed level of 15MPh.
This makes sense considering that this is a cruiser bike with 24 to 26-inch wheels that can suit pretty much any riding style. The cruiser frame on this bike is quite curvy and perfectly complements the white wall tires and aluminum wheels.
You'll roll over bumps with relative ease and you'll find that it's quite comfortable to ride this thanks to the wide seat design.
---
4. State Bicycle Co. Fixed Gear Bike
Available in 6 different sizes and a plethora of colors, this State Bicycle Co. bike is a single-speed model after my own heart. It can accommodate people of different heights. It's perfect for beginner and advanced riders alike, and it's absolutely ideal for urban terrain.
However, unlike most single-speed bicycles, this model comes with a convenient flip-flop hub which means that you can stick to the fixed gear or opt for a single-speed ride. Riding on a track is incredibly easy thanks to the helpful frame and tubing.
In addition to the frame and tubing, you have convenient drop-down handlebars. The back chain is slightly raised and the stem is shorter though. The bike frame is constructed from an aluminum aero which is lightweight and easy to maneuver.
This perfectly complements the durable carbon fiber and Essor fork which boosts the bike's shock absorption factor.
---
5. 6KU Aluminum Single-Speed Fixie
This 6KU bike is constructed from sturdy aluminum which is the best material out of which to make a single-speed bike. Not only is it durable and lightweight, but this bike is also decked out with alloy wheels to help you maneuver the bike at a split second if you need to.
6KU has made this in different sizes and colors, including 47 to 58 centimeters. This is a pretty wide range when you think about it, and the colors include Navy blue and black, tennis ball yellow, black and white, and black. It's one of the few bikes that you can customize to your preferences.
You can use this as a casual beach cruiser or a fast road bike depending on your preferences because the flat handlebars allow you to ride it as you wish.
You can customize its shape to either sit upright or bring it to lean forward thanks to the adjustable handlebars. The brakes are located on the right and left of the bars and are easy to access and use as well.
---
6. Raleigh Bikes City Bike
This lightweight and easy-to-use city bike from Raleigh features an affixed gear design, a slim build, and low-profile construction.
With this bike, you can squeeze through bumper-to-bumper traffic with relative ease, plus it's made from eco-friendly materials, which further reduces your carbon footprint.
It's very important for lightweight bikes to be single-speed because this facilitates faster movement and you can increase the speed without pushing the pedals harder than necessary. In addition, there's less of a chance of falling when riding a lightweight bike like this and it's less likely to damage the bike.
The best part about this bike is that it comes in a variety of different sizes to ensure that people of different heights are catered for. Just make sure to do your research before you purchase a bike to ensure that you're getting a bike size that complements your own measurements.
You can also use the front-leaning setup to adjust the handlebars and seat of the bike if you like.
---
7. Pure Fix Original Fixed Gear Bike
Aside from being a great deal, this bike is the cool modern fixie. It has all the right components which are put together to ensure maximum efficiency and comfort.
It has a 30mm riser handlebar which is hoisted on a high-ten steel frame. Thanks to this thoughtful design, you get to enjoy a really comfortable position while riding this bike, and this is made even better by the velodrome-style saddle.
The rubber grips on this bike help to improve safety even further. But, this doesn't affect the power steering of the bike and yet it's so soft to handle.
The best part is that this fixie bike is available in a plethora of different colors to suit different personalities. You can even customize it further if you like by adding stickers or other personalized factors.
---
8. Takara Sugiyama Flat Bar Fixie Bike
With its simple design and ease of use, this fixie bike from Takara Sugiyama definitely deserves to be on this list.
Its frame is made from handcrafted steel with horizontal dropouts. This means that this bike can handle urban terrain so you can maneuver through those city streets with relative ease.
Another feature worth noting is the bike's flip flop hub which allows you to operate the bike in fixed gear. Alternatively, you can operate it from a standard freewheel single-speed mode. The 700 x 32 tires and 32-hole alloy wheels offer further ease of use on rugged roads.
Other features include alloy side pull brakes that are located on the back and front of the bike which enables you to bring the bike to a halt at a moment's notice. This bike is designed to help the user easily handle urban traffic.
---
How to Choose the Best Single Speed Bikes for the Money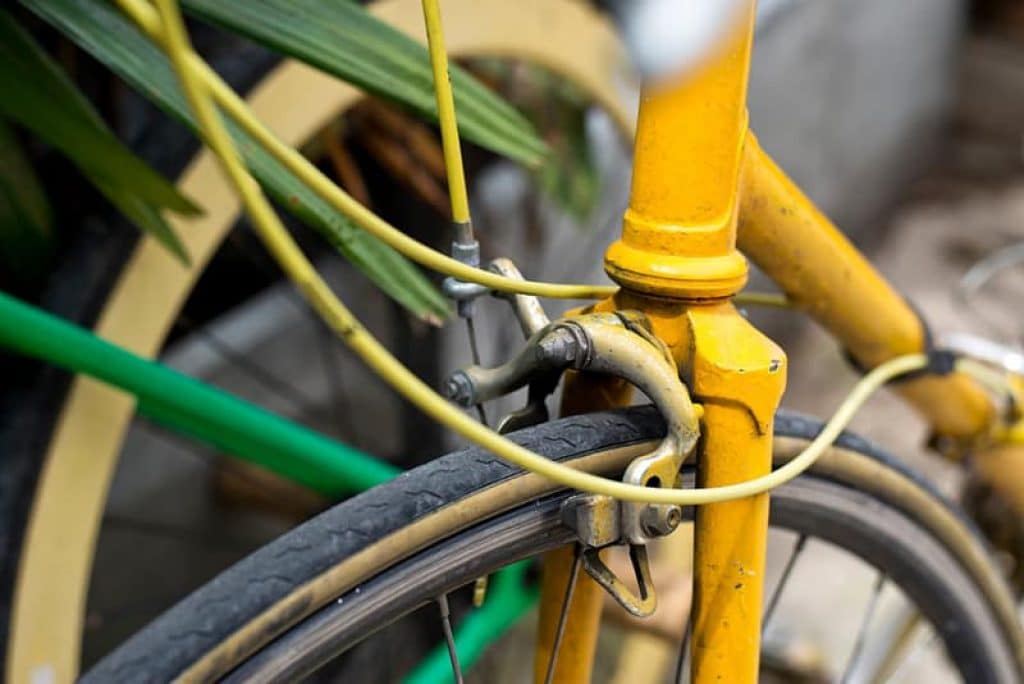 Single-speed bicycles are pretty basic and are considered the standard of modern-day bicycles. They typically come with a few primary features which makes them easy to maintain and handle.
Read on to find out which of these features and components you must pay attention to when looking for the best one speed bikes.
Frame
Generally, a single-speed bike or even urban bicycles should contain steel forks and step-over steel frames. A frame with this combination is known as a "track frame" and it's designed to provide a rugged yet simple bike that's easy to use. You can get these bike frames in either carbon or aluminum.
Single-speed bicycles also come with step-through frames that are quite popular with women's models, in fact. This type of bike is also suitable for seniors, and it's typically made from aluminum and steel frames.
Handlebar
You have various handlebar styles. The one you choose depends on your preferences entirely.
However, the following are some of the most popular handlebar types:
Mustache bars
Pursuit bars
Flat bars
Bullhorns
Drop bars
Depending on your preferences, you might select a style that matches your bike, but aero bars are great for riding at fast speeds.
Wheels
Another important component of single-speed and fixie bikes is the incorporation of good-quality wheels. Most of these bikes use 700c wheels and 26-inch wheels aren't uncommon either.
Regardless of the wheels, there is a possibility of your wheels struggling due to skidding which can affect the spokes particularly. That's why regular truing is recommended for your bike wheels.
A lot of fixed-gear bikes feature deep-section wheels that measure 40+mm deep and offer better aerodynamics. They also look cool, which is great.
Hub
The rear part of a foldable fixie bike is one of the most important aspects of the entire bike and it's available in various designs.
Also known as a hub, this part of the bike can come in the form of a fixed cog or a freewheel. Or, you could go for a flip-flop hub that offers the best of both worlds.
The latter option features a cog for either side. On one side is a freewheel and on the other side is a fixed cog. Regardless, you'll only utilize one hog at a time.
What most people don't know is that fixie bikes come with threaded axles but no quick-release levers, which can work against the user. This is mainly due to the fact that fixies don't contain horizontal dropouts that would make it easy for you to adjust chain tension.
Tires
Most fixies operate on cycling-styled tires which typically measure between 23 to 28mm wide.
Thinner tires typically allow you to ride faster than thick-set ones, but they may not be the most comfortable. That's why 28mm is considered a balanced option.
Make sure the tires you choose offer decent traction because you'll need some traction when braking so it's in your best interest to pick tires that won't wear out too fast.
Single Gear Bikes vs. Fixies
As the name implies, the coolest single speed city bikes operate on a single gear ratio, unlike 10-speed bikes. This means that it doesn't typically have any derailleur gears or hub gears. A fixie, on the other hand, cannot operate under the same conditions.
The good news is that single-speed with a single-speed crankset is not synonymous with a fixie, and you can easily convert one from the other if you like. You'd just have to purchase a specialized single-speed wheelset. All you have to do is get rid of the rear wheel and turn it around.
Both bikes offer different braking styles as well. Fixies usually offer limited brakes or no brakes at all, which means that the rider is required to bring the bike to a sudden stop in order to halt it. This is a rather difficult process and most people might find it tricky to maneuver.
On the other hand, freewheel bikes feature a normal braking system that's easy to use. As such, freewheel bikes come highly recommended for beginners because they're easier to operate and anyone can learn to use them. They also offer a smooth ride compared to fixies.
A good example of popular single-speed bicycles includes the cruiser and BMX bikes. Just make sure your BMX bike has freewheel capabilities so you can use it to perform tricks if you like.
Why Should You Get a Freewheel Single Speed Bike?
Freewheel bikes are typically easier to use because they feel familiar to most people. That's because they're quite similar in build and design to children's bikes.
That's why they're considered the safest option for adults who are beginners. To stop the bike, all you have to do is stop pedaling. Or you could simply coast by when going down hills, which makes it even easier to handle.
Popular top rated single speed bikes are simply easier to handle compared to fixies because they offer a high pedal cadence. This means that you don't have to concern yourself with pedals and cranks that'll affect your shins.
They also make it easier to stop and start round corners or stop at a red light. They're certainly safer to ride when going uphill or downhill, you can easily change the speed compared to a fixed gear bike.
Conclusion
Well, there you have it! That's our guide on the best single-speed guides available on the market. If you're still feeling confused as to which option to choose, we gladly recommend the Sixthreezero Around The Block Single-Speed Bike.
This brand is known for manufacturing some of the best bikes on the market and this one is no different. The wheels on this bike are available in 24 inch and 26-inch sizes, and they can handle different types of terrain. There's a rear mount on the back which you can use to attack a basket, pannier or any preferred fixture.