It's always a good idea to have some sort of GPS tracker on hand when you're cycling. Whether you're using your bike to commute, cycle for pleasure, or are training for a tour, you want to arrive safely and on time at your destination. That's why we've put together the following guide on how to find the best bike GPS tracker in the market.
You'll thank yourself for this device because it won't only guarantee your safety by helping you reach your desired location, it can also help you to find your bike in the event that you lose it or forget its location.
Best Bicycle GPS Tracker
Make your life easier with one of these stellar bike GPS trackers from some of the best manufacturers in the business!
1. AMERICALOC GL300W GPS Tracker
Although this GL300W mini portable tracker from AMERICALOC is small, it might not necessarily be suitable or compatible with your bike. But, we had to include it just in case it is because it comes with a lot of great features and you can always use Velcro straps to install it underneath your bike seat.
Be mindful though, that it does come with a monthly subscription requirement but this makes sense when you consider the fact that it comes with a variety of alerts designed to keep you safe. You get an alert when the bike is moving, when it's parked, and right when you're about to exceed the speed limit.
You can also use the provided settings to determine location limits so that you're able to get notifications when the bike goes beyond this location. The best part is that it comes with an International SIM card so you don't have to buy one separately and you can use it in any country in the world.
Also included in the package is a useful instruction manual that's easy to understand and a wall charger. It's pretty easy to set this up and it typically takes no more than 10 seconds.
---
2. Garmin Edge 520 Bike GPS
Garmin is certainly an established brand and with Edge 520, the brand had won the hearts of professional riders for a refined and extremely useful pack of features.
To begin with, it comes with GLONASS which is a GPS equivalent that adds more coverage. Further, it has a barometric altimeter that you can use to track your route and measure speed, distance, and altitude. Our favorite part: it can display your phone notifications!
Some of the best features of this model from Garmin include tracking function, personalized recovery, and time suggestions among others. Though not completely waterproof, it can survive an accidental submersion in up to 1-meter deep water. The attributes pertaining to performance include the ability to record the gear changes, integration, and support for Strava and ANT+ FE-C.
It can also automatically upload the performance or workout data automatically. Further, if the built-in or already available features don't seem enough for you, Garmin Edge 520's flexibility with features can actually still make it ideal for you.
---
3. TKSTAR GPS Tracker
Durable, versatile, and effective, the TKSTAR GPS tracker is made for long journeys and adventure-seekers. With this tracker, you get real-time data within seconds of installation.
By the way, it literally takes about 10 seconds to fully install this GPS tracker device and it's made from high-quality materials for maximum durability.
There's a reason why this device constantly makes it to the top ten lists of the best bike GPS trackers. It comes with a convenient magnet system that enables you to attach it to any device so that you can start operating it.
It also comes with a geofencing feature that lets you know where your device is in case you move it for any reason. The best part is that it's really easy to use and it has a nice and slim profile and construction.
---
4. Garmin Forerunner 310XT
The Garmin brand is well-known as one of the foremost GPS device manufacturers and they don't disappoint with this Forerunner 310XT.
Not only can it track your location and help you to find your way out of any sticky situation, but it has the ability to track your heart rate and it comes with many other useful accessories including a USB ANT stick.
This waterproof GPS device is backed by a one-year limited warranty from Garmin and the battery has a 20-hour uninterrupted runtime.
As mentioned in the name, this GPS tracker device has ANT+ wireless technology built-in which means it allows you to track and log data in real-time. Plus, you can transfer the data to your smartphone or laptop afterward. These and other great features are what make this the best small GPS tracker for bikes.
---
5. SpyTec GL300 GPS Tracker
The SpyTec GL300 tracker is proof that dynamite comes in small packages. Although small, this portable tracker is suitable for use not only on your bike but on other vehicles as well.
It comes with Google Maps which you can use to track your location in real-time, granted you're connected to the Internet. You can even track your bike with this using a GPS chip installed on your bike.
It should be noted that this tracker comes with a $25 subscription which is payable monthly. You may choose a higher plan with more features if you like.
The point is to choose a package that'll give you peace of mind whether you want to track your location for the sake of your loved ones, or you want to keep an eye on work valuables when you're not in the office.
---
6. Family1st Vehicle GPS Tracker
As the name implies, this company is all about creating products that put you and your family first and the same goes for this incredibly reliable and efficient GPS bike tracker.
It's compact and portable enough to fit into a toolbox, backpack seat pocket, luggage, stroller, car, or bike.
It operates with 4G LTE network technology which makes it very efficient at providing real-time tracking data which can be viewed and stored on your phone, PC, or via the web app. Just keep in mind that there's a 5-second lag time for these updates.
Otherwise, you'll definitely appreciate this tracker's geofencing zone creation feature which means that you'll get notified when the tracker gets beyond the restricted zones.
---
7. Tracki 2020 Real Time GPS Tracker
If there's one thing this tracker gets right it's the ease of mounting. It comes with a magnet, Velcro, and a belt clip so you're spoilt for choice with mounting options.
It offers coverage in 185 countries and it comes with its own smartphone app that you can use to receive notifications through your smartphone either via text or email.
Each account created has the potential to sign up to 50 devices and you'll find that it offers a history report on the addresses, speed, and locations you've traversed including the time and dates.
---
8. GPS Tracker – Optimus 2.0
This list wouldn't be complete without the Optimus 2.0 GPS bike tracking device. It's the best bike GPS tracker with the ability to track people, bikes, and vehicles with equal accuracy.
It's cost-effective and doesn't come with any hidden fees. Plus, you don't have to worry about committing to a contract or anything.
It comes with its own mobile app which you can use to view real-time data via your smartphone or any other relevant device. The app delivers notifications via text and email. You get information like driving reports, speeding, and movement details with each report. Also included in the report will be an update of the device's battery life so you know how much time you have left to use the GPS tracker.
The Optimus 2.0 is PTRCB and FCC certified and offers complete coverage throughout the USA so you can rest assured that you'll never get lost so long as you're in the USA. The tracking app is super easy to use and it only delivers alerts, geo-references, and driving reports when necessary.
---
9. PRIMETRACKING Personal GPS Tracker
This is a personal GPS tracker from the PRIME TRACKING brand that operates on the latest 4G LTE technology.
It can track your location in real-time and provide you with accurate directions based on where you are at the moment of making the query.
It's incredibly small considering the level of technology it has. You can fit it into your pocket or install it on a stroller, a bike, or a car and it won't take up much space. It's a great tracker that offers great value for money, considering that it costs just a small amount to benefit from the service it offers.
Rest assured that this tracker doesn't emit any loud sounds or noises so it won't give you away if you'd rather stay hidden from wild animals and other unknown variables, and it's definitely one of the best bicycle GPS trackers available.
---
How to Pick the Best Bike GPS Tracker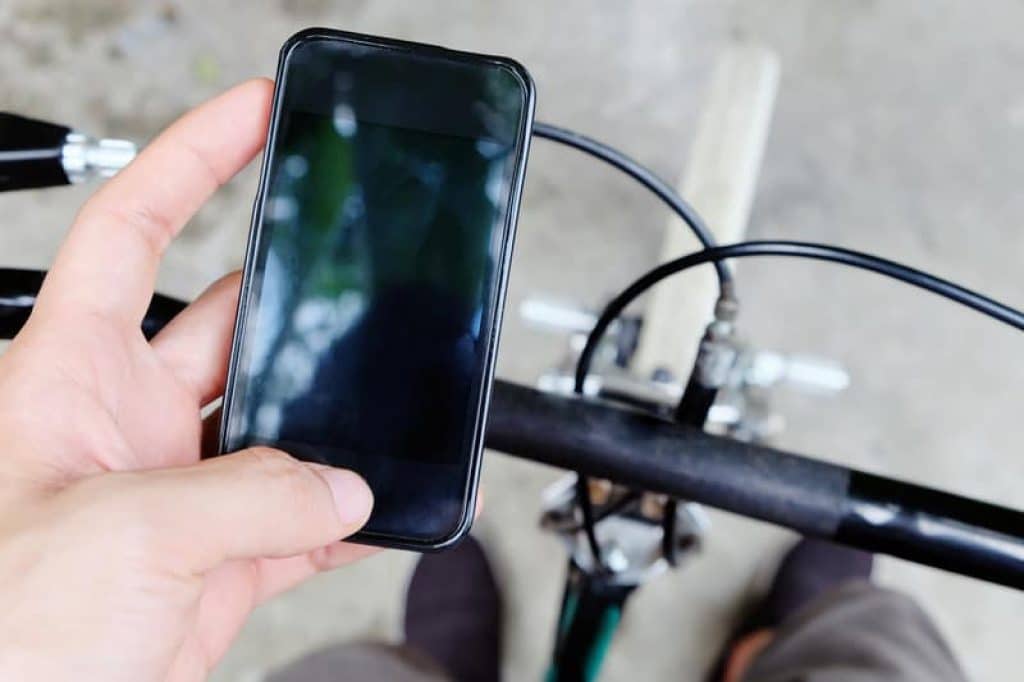 When it comes to buying any electronic device, the process can be quite tricky due to all the different features and specifications that one needs to look out for.
They all differ along these lines but thanks to the advent of online reviews, it's much easier to pick an option from the myriad of available products. This is the case even through the cornucopia of different brands and models is available.
To make it even easier for you to find a good GPS tracker, consider the following features and pointers to help narrow down your options faster.
Compatibility
As we said, your GPS tracker should have compatibility with the operating system of your specific devices. For instance, if you're an Apple fan, then your GPS tracer should have iOS compatibility.
Luckily, a lot of the GPS trackers that are released nowadays are compatible with both iOS and Android devices alike.
Connectivity
One way to judge the quality and efficacy of a GPS tracker device for bicycles is through its connectivity.
That's because connectivity is what enables you to benefit from the tracker's features through a device of your choice, whether it be your smartphone, laptop, or PC.
The good news is that most GPS trackers come with Wi-Fi, Bluetooth, NFC, and GSM connection capabilities. The one you pick depends on your preferred connection method.
Material
For best results, it's advisable to purchase a product that's manufactured from durable materials that are resistant to the elements that you'll encounter in the outdoors.
This means that it should ideally be waterproof, weatherproof, and dustproof. Your tracker's batteries should particularly be sturdy and long-lasting to avoid a situation where you have to constantly recharge and/or change the battery.
Size
When it comes to GPS trackers, size matters and that's why we make it a point to mention it in the bike GPS tracker reviews.
That's because the way you install a GPS tracker to a single-speed bike is different from the way you have to install it onto your car. There's less room available obviously, and you don't want a large tracker for that reason.
The Optimus 2.0 is a great example of compact and small GPS trackers that work great and are easy to attach to your cheap hybrid bike. All you have to do is use a Velcro strap to attach them to a discrete area of your bike.
IPX Rating
If you like to ride your road bike all year round, even in the winter or in really rough terrain, then you should definitely consider small tracking devices for bicycles that can handle the elements.
It should be tear-resistant and waterproof with an IPX rating of at least 5, 6, or 7.
Price
Most bike GPS trackers require a contract commitment so that you can pay the monthly/weekly or yearly fee that comes with it. Again, the option you pick here will depend on your preferences.
Some people prefer to pay monthly fees as opposed to yearly fees and vice versa. It'll also depend on the other features offered by the device and whether or not they outweigh the fee payments.
Otherwise, most trackers feature a similar design and any newfangled features are typically updates related to improving the safety and efficiency of the device.
Benefits of Bike Trackers
A bike tracker such as Garmin smartwatches is one of those essential accessories that are required for bicycle owners nowadays, especially if you love the adventure of off-road biking or touring. Although small, these devices are very efficient at what they do.
Basically, GPS bike trackers are designed to track the vehicle's location in real-time and most of them are so small that you can attach them to pretty much anything so that it's easier to recover your possessions when they or you are lost.
Since they're so small, these devices are rather lightweight and easy to carry and move around with. You'll hardly feel their weight and you'll completely forget that they're even on your step-through bike in the first place.
They're also easy to install and will give you and your loved one's peace of mind whenever you go on adventures.
How Does the Best Bicycle Tracker Work?
Use the included chip or transmitter on your tracker to set up the GPS tracker on your bike or car.
This allows you to check the device's location from wherever you are from your smartphone or whatever device it's connected to. The tracker has an embedded bike GPS tracker chip for your convenience.
You can also attach the tracker onto your child's pocket or backpack so that you always know their location without relying on their phone.
There's a wide variety of GPS trackers on the market so you're really spoilt for choice and have no excuse. You don't have to settle for anything you don't like. There are GPS trackers for bikes, cars, and many other categories including motorcycles, anti-theft, child trackers and so much more.
Conclusion
Well, there you have it! We've given you all the tools you need to find the best bike GPS tracker for your needs.
If you're still feeling confused with regards to which option you should choose, we're more than happy to recommend the AMERICALOC GL300W GPS Tracker.
Why? Well, this is for a number of reasons. For one, it features a number of different alerts for different situations and circumstances. This includes an alert that lets you know when you're about to exceed the speed limit or when it's about to move from the parking spot where you've left it.
It's very accurate and it even comes with an international SIM card so you can operate it no matter where you are in the world. It only takes 10 seconds to install and it comes with pre-configured zones which you can customize further to suit your needs and preferences.