Looking for the best bike for 60 year old woman? Just because you've reached the autumn of your life, doesn't mean that you have to give up the pursuits you once enjoyed in your younger years.
A lot of seniors continue to enjoy a fun and rigorous recreational life way beyond their 60s. Plus, you don't have to sacrifice comfort and style for practicality.
Best Bike for Senior Woman
Nothing makes you feel alive more than riding through a meadow or a beautiful forest. It's one of the best forms of exercise that you can get as a senior because it's safe, fun, and invigorating.
But, you can't use the same bike you did in your senior years as you did when you were younger and I'm thinking that's why you're reading this article on how to find the best bike for 60 year old woman.
Read on as we share our findings with you of the best bike for women over 50.
1. Sixthreezero Around the Block Women's Cruiser Bike
First up is the women's cruiser bike from Sixthreezero which is as stylish as it's comfortable. It's perfect for enjoying those leisurely rides along the neighborhood whether you're in the city or in suburbia.
It comes in four different options, namely the 1-speed, 3-speed, 7-speed, and 21-speed with friction shifter that allows you to control the push and traverse through different types of terrain.
Measuring at 17 inches, the sturdy steel frame is there to keep your back and shoulders straight while preventing strain. That means you can go for hours without feeling any pain and this is an essential feature for senior riders.
The wheels measure about 26 inches and come with huge waffle tread tires to ensure a smooth ride no matter how rugged the terrain becomes.
The Around the Block is an all-around all-star that's designed for elderly women who want to continue doing all the cool things they did in their younger years.
---
2. Retrospec Venus Dutch Step-Thru City Comfort Hybrid Bike
This hybrid comfort bike from Retrospec is designed for the young at heart. It can handle different kinds of terrain and will carry you through those long rides.
It also features a shock-absorbing system and a step-through frame for effortless mounting. You'll be glad to know that it's incredibly easy to assemble no matter how inexperienced you are, and you can even get the instruction manual on YouTube and Google.
There are front and back caliper brakes to facilitate smoother transition when making an abrupt stop. It's perfect for senior city slickers or when you want to do regular exercise.
The only issue we have with this bike is the spongy foam that its seats are constructed from which can be uncomfortable at times. But, it's still a great bike nonetheless.
---
3. Sixthreezero Body Ease Women's Comfort Bicycle
This is yet another stellar creation from Sixthreezero and offers comfort and practicality in droves.
You'll find that pedaling is a breeze, on account of the built-in cruiser configuration which comes complete with -inch slick tires that offer maximum comfort. This type of bike is designed to protect your back by allowing you to sit in an upright position.
It also comes with a back rack meant to carry any essentials and accessories that you might need. It also comes in different colors and styles including teal blue, navy blue, and cream. These and other features are what make it the best road bike for 60 year old woman.
---
4. Retrospec Beaumont-7 Urban City Commuter Bike
The Retrospec Beaumont-7 deserves to be on this list of the best bike for 50 year old woman and you'll see why.
It features a characteristic lightweight steel frame and is made from the best materials, including the tires, brakes, and drivetrain. Seven-speed control means that you can change gears according to the terrain whether you're enjoying a short commute to town or through hilly terrain.
The only issue we have with it is the fact that it's difficult to assemble but once you have it up and running, you'll find that it offers a comfortable ride and a smooth braking system.
This is certainly a versatile old lady bike that can take you wherever you need to go while feeling the wind brush up against your hair.
---
5. Schwinn Discover Hybrid Bike
This women's bike by Schwinn comes with an integrated suspension fork courtesy of SR Suntour. This means cushioned gears and super-fast speeds.
It also features Promax Alloy linear brakes which enable you to stop at will without experiencing a jarring motion. It's the ideal bike for an urban environment and will make it easier to zip through traffic.
It also comes with such features as grip-friendly swept-up handlebars, and a hybrid design which makes it suitable for both genders and allows for comfortable riding no matter what your height is. It's quite durable and can handle a lot of weight which is ideal for running those lengthy shopping trips.
However, a lot of users have expressed discontent with regard to the braking systems. It seems as though it has a few mechanical faults that make it unreliable, but it's nothing a good mechanic can't fix. The best part is that you may replace the plastic back with a metal part with very little effort on your part.
---
6. Kent Springdale Hybrid Bicycles for Older Women
This bike is quite polarizing. Some say that it takes a while to break it in but once you get used to it, it offers a smooth ride. It's designed to keep your back upright and is easy to hop onto.
Yes, assembling it can be a headache if you're new to cycling but this is mainly due to having a poor instruction manual. But, you can always ask your mechanic to help you out with it. Either way, you should be able to get it up and going within an hour, which isn't too bad.
However, the most unique factor of this bike is its price. It's really budget-friendly yet it comes with various useful features. Sure, it's not the most quality model but it's one of the top bikes for older ladies who just want a comfortable ride through the neighborhood.
---
7. Raleigh Bikes Venture Thru Comfort Bike
Easy to assemble and use, this bike was designed with seniors in mind. It's made from a lightweight aluminum frame so that you don't have to struggle while carrying it from one spot to another. It works on all types of different terrain and conditions.
Not just a bike for city slickers, you can take it out for a country tour too, as it comes with a high-quality 21-speed gear shifter that allows you to easily customize your ride as you wish. It has large wheels with a wide base for optimal balance and a well-engineered design.
Other notable features include Raleigh comfort grips and matching saddle which make this one of the best bikes for elderly woman. It works just as well on a cycling trail as it does on a metalled road.
However, you'll have to spend out of pocket for accessories as this bike doesn't come with any. This includes essentials like a back rack and a kickstand which you'll most probably need for your journeys, but it's a small price to pay considering the hours of comfortable fun you'll have on this bike.
---
8. Diamondback Bicycle for Elderly Woman
This classic comfort bike from Diamondback is the perfect bike for those countryside jaunts. It comes with all the features you'd expect from a good quality bike and offers a truly enjoyable ride.
One of those features is how easy it is to hop on and off of it as well as the smooth ride it offers. It doesn't matter how rough the track is, you'll enjoy a really smooth transition from one terrain to another thanks to the suspension fork. The suspension seat post adds to the ergonomic design of the bike.
This bike also comes with 21-speed brakes which makes it easy to climb up hills and it comes with wide tires so that you can maintain control and traction while riding through rough terrain. All in all, this bike offers the ultimate riding experience.
---
How to Pick the Best Bike for 60 Year Old Woman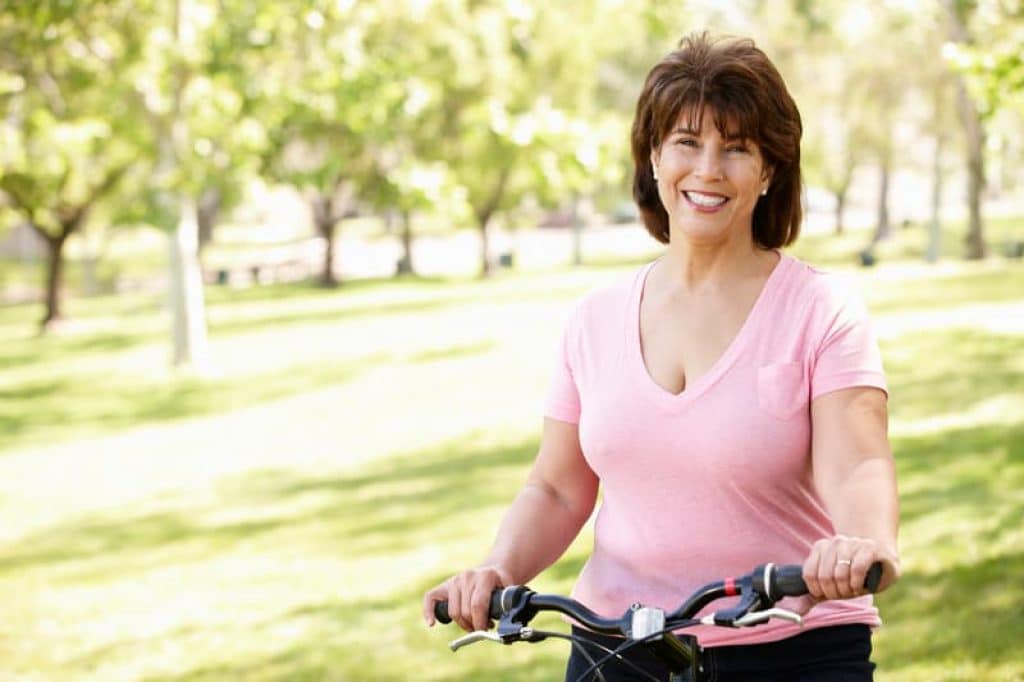 Now that you know what your options are, it's time to look at some of the most important considerations you need to make to help you narrow down your options when looking for the best bike for 70 year old woman or 60.
Fit
For best results, you should ensure that the bike for women you choose allows you to sit in an upright position to reduce the strain on your lower back.
The handlebars should also be in an upright shape so as to further protect your back from strain and help to avoid crouching over while riding the bike.
Frame
As a senior, you should definitely look into a step-through frame because it makes it easier to mount the bike and get off of it as well.
There's no maneuvering required with this design and no unnecessarily complicated tubes running through the frame. If you're looking for a quality cruiser bike for women, take a look at this other buying guide we have some time ago.
Suspension
Bike suspension is all about the amount of weight that it can handle as well as the different types of terrain that it'll enable you to travel through.
Bike suspension is typically located on the old lady bicycle fork and that's because this makes it easier for it to absorb shock, but it can also be placed on the seat post. For best results, we recommend mom bikes whose suspension is designed to offer a smooth and comfortable ride.
Comfort
As a senior, you're way past the part of your life where you're willing to sacrifice comfort for function or even beauty.
In fact, comfort is at the top of the list of features that you look for in anything, because let's face it; you've earned it. When it comes to the best bikes for older women, you want a bike that has a comfortable seat, frame, suspension, and fit.
Seat
As for the seat, you want one that's made from comfy materials like leather or padded foam and see if you can put a trunk bag at the back. Comfy bike seats are usually made from both materials and focus more on comfort than speed.
Handlebars
You should also be careful when picking bike handlebars because the wrong type can put considerable strain on your neck, back, and wrists.
Ideally, you want high handlebars, preferably with a stem that's located an inch over the saddle. That's because from this position you'll be able to avoid overextension and/or hunching while riding in your bike.
It's also important to ensure that your handlebars have a textured grip and that they're made from comfy materials like high-tech fabric or leather. Stick to a simple design and avoid anything that's so complicated as to make it difficult to position your hands properly.
Plus, poor grip often leads to blisters and wrists, both of which you don't need in your life right now.
Benefits of Cycling for Seniors
Cycling is one of the easiest and most effective forms of exercise for seniors. Plus, you need to exercise every day in order to stave off aging effects while keeping your body as healthy as possible. Combined with other positive lifestyle factors, daily exercise can be a real gamechanger.
Riding a bike is arguably the most fun way to get your daily exercise in, plus it offers a wide array of health benefits, both mental and physical.
One study from the Centre of Cognitive Aging shows that regular exercise such as cycling can reduce the risk of developing white matter lesions and atrophy.
Reduced white matter lesions come with the added benefit of reducing your risk of developing other aging conditions such as Alzheimer's, vision loss, decreased cognitive ability, and multiple sclerosis.
Not only that, but the Harvard Medical School also found that cycling on a regular basis can also improve your ability to enjoy better physical movement and performance. This means that you'll find it easier to stand, climb the stairs and take a walk due to having stronger bones and muscles.
Plus, you get other exercise benefits too same as with a tricycle for handicapped like improved mood due to the release of positive endorphins that make you feel good.
Conclusion
Well, there you have it! Now you know what to look for in a quality bike for seniors and we've provided you with the best options on the market.
But, if you're still torn between all these wonderful options and can't figure out what the best bike for 60 year old woman is, then we're more than happy to help you out. If we were to choose just one option, it would be the Sixthreezero Around the Block Women's Cruiser. It's stylish, comfortable, and versatile.
It also comes in different speed options with a 17-inch steel frame that helps to keep your back straight while enjoying a smooth ride. This is an all-rounder that even allows you to adjust the height and tilt for improved comfort, and you definitely can't go wrong with the padded grips and saddle.