Most people don't make enough of an effort to maintain their bike chain even though it's one of the most important components of the bike. That's why we put together this guide on how to find the best bike chain degreaser just in case yours needs a bit of TLC.
The importance of the bike chain cannot be overstated. It's responsible for enabling you to pedal your bike efficiently no matter what type of terrain you're riding through. Although the chain is incorporated into the bike, it can be a pain to maintain because it requires constant cleaning.
The most important thing to do though is to degrease the chain as often as possible because a dirty chain can cost you more in the long run in terms of the functionality and impending damage that it inflicts. Basically, it can be a nightmare to pedal and shift gears with a dirty chain.
A clean chain, on the other hand, can help to speed up your bike and improve its overall performance.
Best Bicycle Chain Degreaser
When it comes to chain degreaser products, there's no shortage of them on the market. That's what makes it difficult to choose one nowadays.
To help you along in your search for the best bike chain degreaser, we did some research to put together the following list of reviews which we hope will be helpful in your search.
1. Finish Line Speed Degreaser for Bicycle Chain
Then we have the Finish Line Speed Bicycle Chain Degreaser, which is quite popular with bike manufactures and avid bikers alike. It offers fast-acting results and has been shown to be very effective at cleaning and degreasing bike chains of different sizes.
Finish Line has outdone themselves with this degreaser for bike chain which was professionally developed by experienced scientists to ensure effectiveness. It's a must-have in your bike maintenance arsenal because it works fast and it's easy to use.
This is a dry-based product that's designed for use on metal and other materials and it's very effective at removing residue regardless of the surface. It works so fast that it dissipates dirt from the moment you apply it, and it won't leave behind any residue so there's no clean-up of the clean-up, if you know what I'm saying.
You can go in with a lubricant straight after cleaning with this, and because of its unique formula, this degrease is suitable for use on disc brakes as well.
---
2. White Lightning Clean Streak
The White Lightning clean streak chain degreaser gets to work as soon as you apply it.
It's not only easy to use but it has been shown to be effective on derailleurs, disc brake rotors, chains, and gears alike. That's because it has the ability to remove dirt, grime, and debris on all of these different parts and surfaces.
This highly effective chain degreaser is highly regarded in the biking industry because of how easy it is to use. It's so popular that it's currently in use in over 25 countries around the world.
It has been shown to work in mere minutes and it won't leave behind any residue. This means that you don't have to rinse it off afterward.
---
3. Park Tool CB-4 Bio Cleaning Fluid
There's a reason why professionals prefer this product and consider it to be the best bike chain degreaser for them.
It's a versatile product that can be used in the maintenance of different aspects of the bike and it's made from high-quality materials. It's on the higher price and quality spectrum, and it's a great degreasing liquid.
You can apply it on with a brush or a clean cloth, and it works great when paired with the CM-5.3 Cyclone Chain Scrubber from the same brand, Park.
Of course, you can always utilize a different chain scrubber if you like and there's no shortage of options available out there. All you have to do is perform a quick Internet search and you'll find plenty at your disposal.
Just make sure that you utilize the chain scrubber correctly and avoid drenching your chain with it, as that could cause more trouble than anything else.
---
4. Pedro's Oranj Peelz Citrus Degreaser for Bikes
This citrus-based bike degreaser is made for use on all components of your bike.
It's made from a potent formulate that's designed to get rid of stubborn dirt and grime, even on the parts of your bike that aren't made from metal.
This means that it's versatile enough for use on base paint, rubbers, plastic, and alloys. It's not damaging to your bike at all and because it comes in a spray bottle, it's fairly easy to administer on different parts of your bike. You don't need any special brush or tool to apply it.
You'll be glad to know that this non-toxic degreaser is suitable for use by anyone and is unlikely to cause any side effects. This is one of the reasons why this product is considered one of the best bike chain degreasers available on the market today.
---
5. Runaway Bicycle DEGREASER
There's no shortage of chain degreasers on the market that claim to offer the same results and/or features. Not only can this Runaway Bike chain degreaser clean different forms of dirt but it comes with a number of other features and benefits that it actually lives up to.
For one, it's made from a biodegradable formula that has a unique ability to disintegrate the dirt quickly and easily. What makes it unique is the fact that it has a non-acidic base which makes it quite safe for use on different materials and you can use it on plastic parts, rubber, aluminum, steel, carbon fiber, and titanium alike with relative ease.
This degreaser is easy to pour thanks to the customized flip-flop lid and it leaves the chain looking brand-new while protecting it from future damage.
However, it's recommended to allow the degreaser to simply sit for a few hours after you've applied it to give it time to work its magic. Thereafter, you can wash it off which is important to do before you lubricate the chain.
---
6. Simple Green Bike Cleaner/Degreaser
This Simple Green Bicycle degreaser is made from a phosphate-free and biodegradable formula. It's also very affordable and isn't toxic or corrosive on your bike's components.
We like the fact that it's fire-resistant and has the ability to remove dirt, grease, oil, and grime from chains and derailleurs with equal ease.
In addition to being effective, this best chain degreaser is gentle on all types of surfaces including those that are painted.
It comes in the form of foam and the bottle comes with a trigger spray which makes it easy to apply and utilize even for beginners.
---
7. Bike Medicine Golden Degreaser
This Bike Medicine product is known as the Golden Degreaser for good reason. It's one of the best bike chain degreasers made from a unique formula that makes it easy to maintain your bike.
It's incredibly easy to apply and it doesn't leave behind any residue afterward. This quick-acting formula is non-toxic, non-poisonous, and biodegradable.
Because it's incredibly concentrated, the formula can be diluted thus increasing the number of applications you can use it for and makes it last longer.
This versatile degreaser can be utilized along with water on wheel arches, engine bays, and undercarriages. You can then rinse it off afterward. It has the ability to remove heavy-duty grease and grime and can tackle all types of dirt with relative ease.
---
8. WD-40 Bike All Conditions Lube
The WD-40 bike lubricant is a 10-ounce degreasing powerhouse. It's designed to get rid of stubborn grease and grime and it's versatile enough for use on regular bikes as well as mountain bikes. It's made from a fast-acting foam formula that works as soon as you apply it.
It doesn't leave behind any residue afterward. It's really easy to use thanks to the spray bottle design which allows you to apply the formula straight onto the chain links.
Because it doesn't contain an acidic base, this road bike degreaser is safe and non-toxic or damaging to any of your bike's components, or you for that matter.
If you're looking to start a maintenance routine for your bike, this product is a great addition to incorporate into your arsenal of tools.
---
How to Choose the Best Bike Chain Degreaser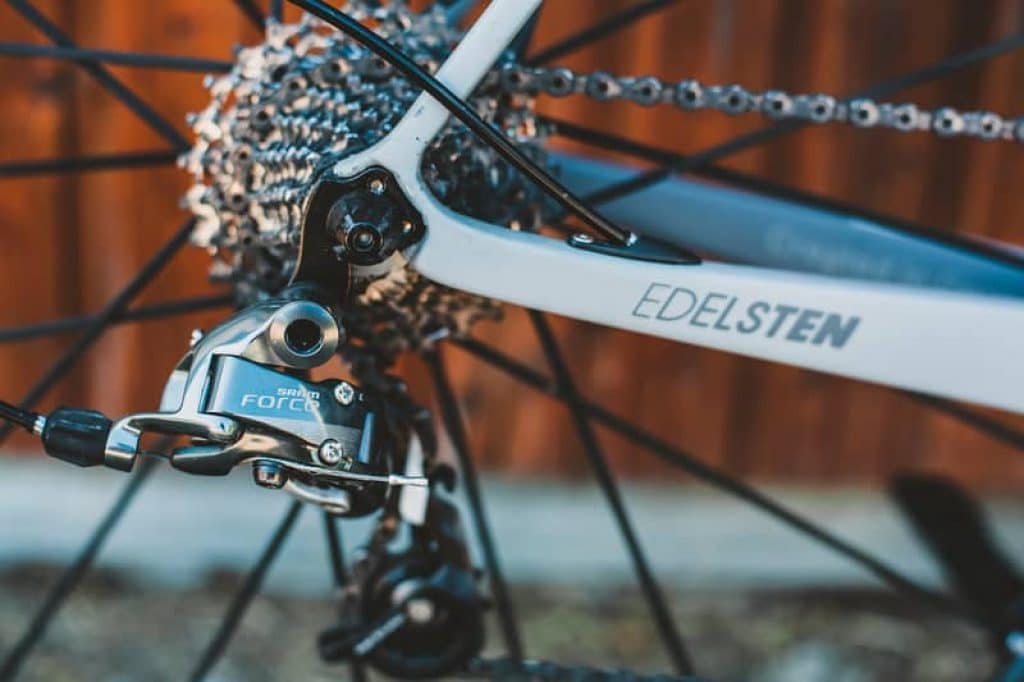 Sure, you can take a bit of soap and water to clean your bike chain and other components but that wouldn't be doing the best for your bike now would it?
The last thing you want is to damage your bike while trying to clean it. You want to use a product that's specifically designed for use on a bike chain.
Make sure the bike degreaser you purchase has the following qualities before you purchase it:
Is Biodegradable
There are many different reasons that come with utilizing a biodegradable formula degreaser. For one thing, it only requires water to rinse it off and it's obviously eco-friendly.
You can easily rinse it off knowing that it doesn't contain any harmful chemicals that might damage your garden later.
Just make sure to check the ingredients list to ensure that it's really as non-toxic as it claims to be.
Dries Quickly
You want your degreaser to dry fast so your bike maintenance doesn't take longer than it needs to.
That way, you can move onto the next step of the maintenance process as quickly as possible, which is to apply lubricant.
Is Easy to Use
Cleaning your bike shouldn't be too difficult as this could actually discourage you from cleaning your bike chain later. That's why you want a degreaser that's easy to use and simple in its composition.
For best results, look for a degreaser whose bottle comes with a spray mechanism for easy application.
It should also be one of those degreasers that loosen the dirt almost immediately after application.
Comes at a Good Price
While most degreasers aren't necessarily expensive, it's worth it to aim for a good quality degreaser and that might cost a bit more than basic ones.
The best bike chain degreasers typically come with a great reputation and are known for offering good value for money.
Why Use a Bike Chain Degreaser?
There have been concerns from seasoned bikers who say that constantly cleaning your bike chain may cause problems by inhibiting the chain to self-lubricate and self-regulate.
But, there's no reason to believe that a bike chain can be too clean. In fact, there's evidence to show that it's worth it to clean and lubricate a bike chain properly.
There's no denying that bike chains will get damaged at some point due to regular wear and tear. This is mainly caused by grit which is a type of dirt that damages the metal slowly over time thus affecting its performance overall.
It's obvious that you can't get a lot out of your bike if the chain is dirty. That's why you must maintain it regularly by cleaning and lubricating it. This will extend your bike's overall lifespan by getting rid of the buildup of dirt and grime that your bike picks up along the road.
The chain degreaser is designed for use on your bike chain in particular and it's known for working quickly and easily.
How to Use a Good Bike Degreaser?
It's important to note that not all degreasers are made equal. Some are better than others. To figure out what's what, read the provided instructions and follow them properly.
The good news is that some come with trigger bottles that are easy to use and are designed to ensure that the product goes straight onto the chain and doesn't splatter on the sides.
Others have a pouring bottle that has a risk of spillage. Some must be rinsed off after use while others are dry-based which means that you can leave them on for additional protection.
Make sure the one you select is fast-acting and fast-drying.
Non-Toxic and Biodegradable Degreasers
There's quite a big debate right now over the validity of biodegradable claims made by degreaser manufacture and whether or not it's synonymous with the word "non-toxic".
Truth is, just because it claims to be biodegradable doesn't make a degreaser safe for use for everyone. Moreover, manufacturers have been shown to lie about the safety of their products so just because a degreaser is shown as biodegradable doesn't mean that it's non-toxic or 100% natural.
So, that's why it's important to do your due diligence when buying a degreaser to ensure that it doesn't contain any hazardous materials that are damaging to you or the environment.
Just because there's a non-hazardous sticker on the packaging doesn't mean that the degreaser is safe to use either.
Always search the ingredients list for anything that might be harmful and if you find anything that you don't recognize, search online for it or contact the manufacturer and ask them directly about it.
Otherwise, it's recommended to always use a biodegradable degreaser if you want to have peace of mind knowing that it's non-toxic and won't damage your grass or plants when rinsing it off.
It's also worth it to wear protective glasses, nose masks, and gloves when using a degreaser to protect your skin against potential damaging chemicals.
Conclusion
The key to finding a good chain degreaser is to consider the points featured in this article and do your own research.
Check the ingredients, look at the reviews and see what other users think about its performance. Most importantly, learn how to use it properly so that you can get the most out of it.
So, what's the best bike chain degreaser? In our opinion, it's the Finish Line Speed Bicycle Chain Degreaser.
Why? For a number of reasons.
For one, it's versatile enough for use on different parts of your bike, it's easy to use and has been shown to be very effective at getting rid of debris, grime, and dirt on different types of materials.
It's very popular among professionals and manufacturers alike, and it doesn't leave behind residue. It's also fast-acting and you can leave it on if you like. The best part is that it's incredibly affordable and comes in a large, long-lasting bottle.
What type of degreaser do you use most on your bike chain from the many options available? We would love to hear from you so please send us your feedback by posting a comment in the section below!